APPLICATION
Metal Preparation with Aluminum Oxide
Closely graded aluminum oxide reduces the cost of re-finishing carbon steel turbine components.
CHALLENGE
A turbine manufacturer was looking to reduce costs in their re- finishing operation. They had been using a blend of garnet and steel grit to blast their carbon steel turbine components. They were consuming a lot of blasting material and were experiencing poor performance.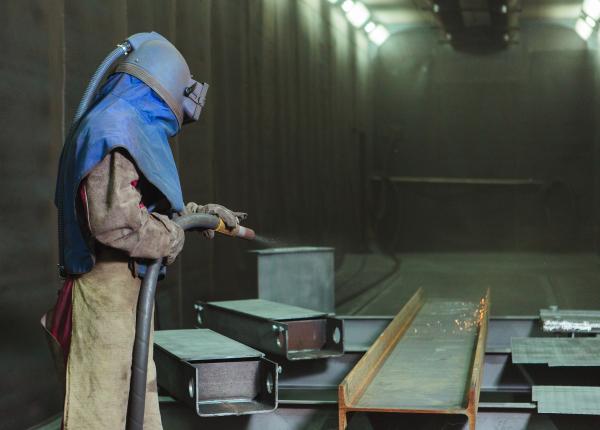 SOLUTION
Washington Mills visited the customer and evaluated their blasting operation. It concluded that the combination of garnet and steel grit was not aggressive enough to produce the desired finish within a suitable number of passes. The blast operator was consuming more than twice the amount of blended blast material than was originally anticipated in order to achieve the desired finish. After reviewing the process and costs, Washington Mills recommended that the customer try a 20 grit brown aluminum oxide blasting media called Niagara Blast®. The change to 20 grit Niagara Blast® was effective and produced dramatically improved results. It reduced the blast media requirement to one single material rather than a mix of garnet and steel grit and cut the blasting time in half. The increased longevity of the material allowed the end user to reduce the amount of blasting material consumed from 25,000 pounds of garnet and steel grit per month to 20,000 pounds of 20 grit Niagara Blast® every 7-8 weeks.
RESULTS
Washington Mills suggested a high quality and more consistent and tightly graded aluminum oxide to improve the turbine re-finishing operation. The elimination of the two blended materials and the reduction in blasting time allowed the turbine manufacturer to produce more parts faster and lower the cost per part. The switch from grit blasting media to aluminum oxide produced tangible cost savings that lowered the customer's cost of manufacturing. A more productive grit blasting material such as Niagara Blast® saved the company money by eliminating the need for large quantities of blended garnet and steel. It moved the manufacturing focus away from trouble shooting problems to producing excellent parts in an efficient and timely manner.
Surface Preparation with BLASTITE®
High-quality brown fused aluminum oxide blasting grain meeting exacting specifications.